The Crimson CS710 Pre-amplifier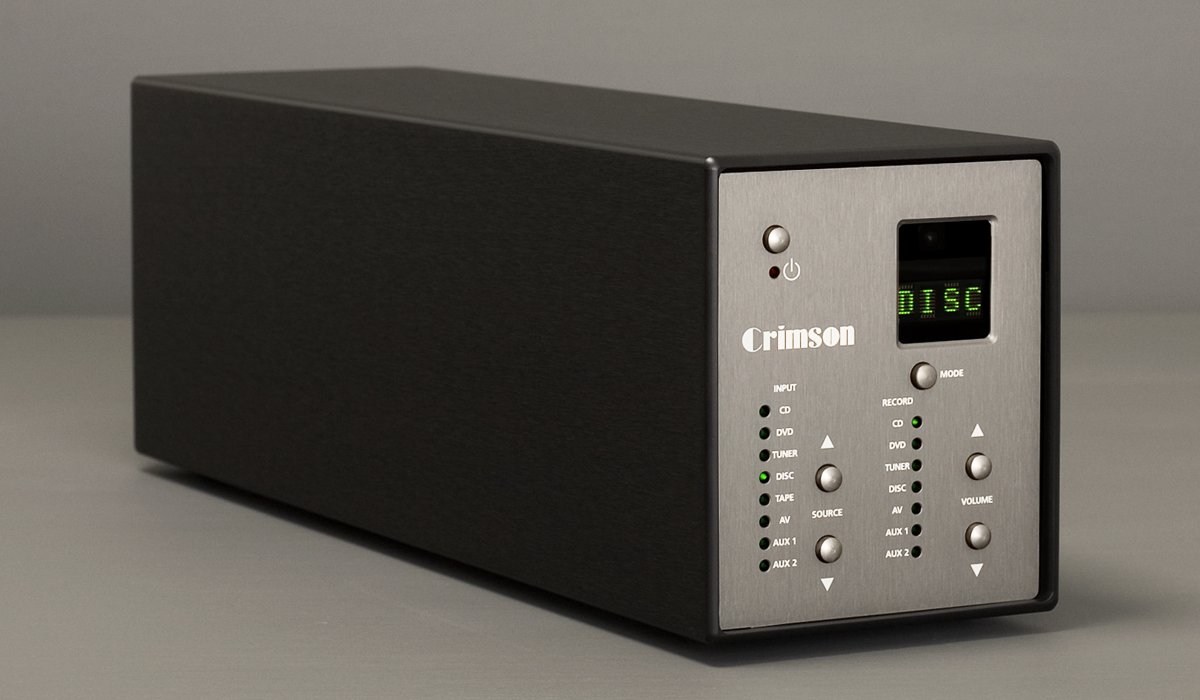 Get more music out of your music.
The Crimson CS710 is a no-compromise high-end audio pre-amplifier hand-built in the United Kingdom and designed to be ultra-clean, quiet and absolutely transparent in its handling of audio information. We believe you will discover that the CS710 extracts more music from your recordings than any other audio pre-amp available.
It has seven stereo line-level inputs and an unattenuated line-level tape output, plus a fully discrete RIAA MC/MM stereo phono stage that we feel outperforms any phono pre-amp made today. Switching between Moving Coil and Moving Magnet is effected by gold-contact internal DIP switches.
The Crimson CS710's remote controls the volume (in 255 steps) as well as balance, input selection, mute and power on/standby. Front panel control is by solid-state gold-contact electronic switches.
The external power supply unit provides separate and totally electrically isolated D.C. power to the analogue audio and digital control system sections of the pre-amp. The CS710 is an all analogue pre-amp. The digital section is used only for the system controls.
The Crimson CS710's micro-controller remembers the last volume and balance settings used for each input as well as display brightness (the LED display may also be switched off). The CS710 may be reset easily to factory default settings from the front panel "mode" switch.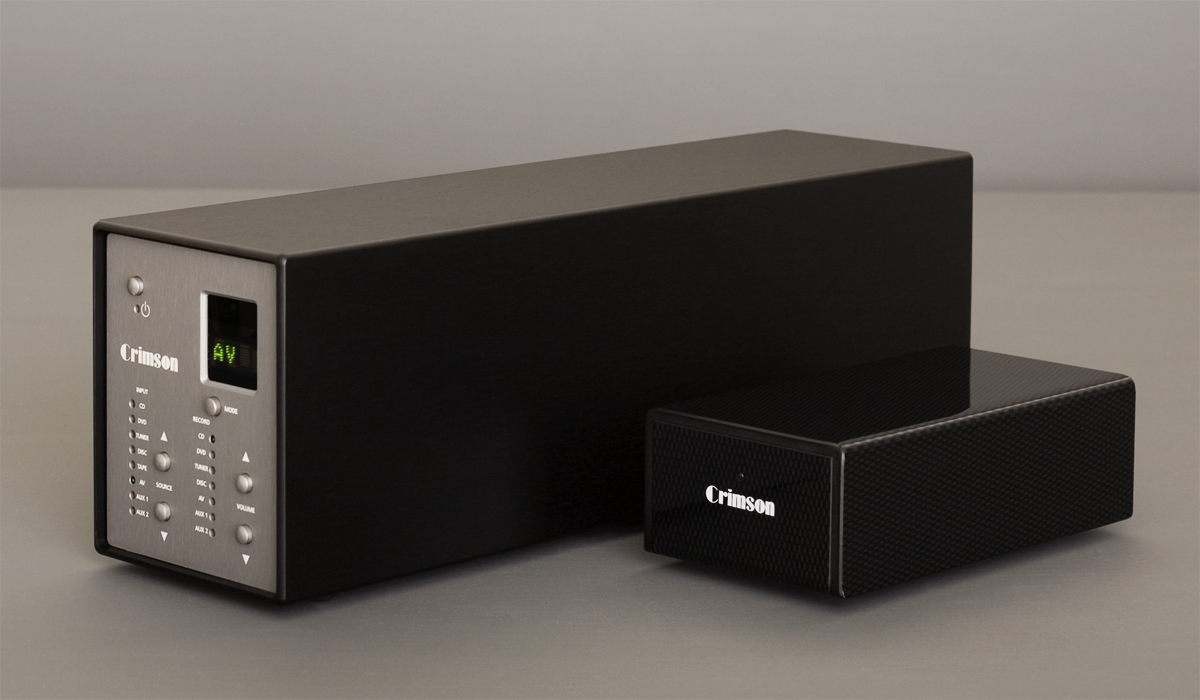 The Crimson CS710 Pre-amplifier with its Power Supply Unit
No Moving Parts
In most pre-amplifiers, the delicate audio signal from each source component travels through an input switch, a balance control and a volume control presenting several opportunities for worn or oxidized contacts to degrade said signal. The Crimson CS710 uses a digitally controlled switched resistor type of integrated circuit which implements volume, balance control and input switching, all in the analogue domain. The audio signal does not pass through any moving parts such as mechanical potentiometers or analogue switches and so is immune to the wear and/or oxidation inherent in those devices.
Think about it: if your pre-amp has controls with physical contacts, the sound is continually degrading over time due to oxidation and wear! The Crimson CS710 takes this variable out of the equation. It will sound as good in ten years time as it did on the very first day!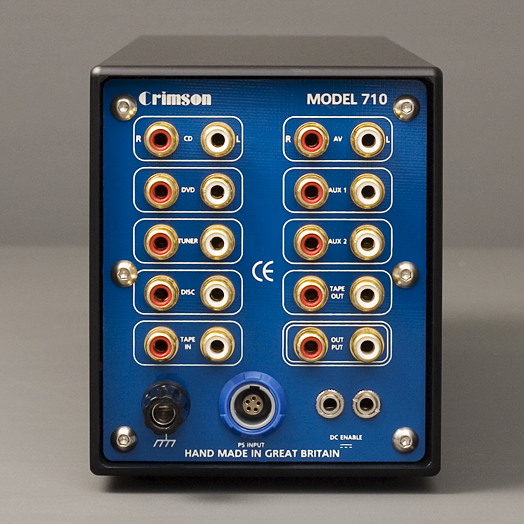 The Crimson CS710 Pre-amplifier Rear Panel
The Crimson CS710's case is a custom made solid aluminium extrusion, anodized for durability. All audio connections are made by gold-plated RCA phono sockets (we recommend connecting them to Crimson RM Music Link Interconnect Cables which are always terminated with ETI RCA Bullet Plugs!). The CS710's Power Supply Unit has carbon fibre effect casework and is connected to the pre-amp by an umbilical cable employing medical-grade gold-plated Lemo plugs and sockets.
We designed the Crimson CS710 Pre-amplifier to get every last drop of information out of your recordings in the most musical way possible. If you'd like to hear what a CS710 can do for your system, contact your nearest Crimson Electronics dealer, or email us at info@crimsonelectronics.com.
"Unaffectedly beautiful and perfectly balanced from bottom to top!"

- Bob Neill, Amherst Audio, Massachusetts, USA.
---
© 2013 Crimson Products Ltd.